Nacogdoches Law Enforcement Foundation
The Nacogdoches Law Enforcement Foundation was established to create a safer and more secure Nacogdoches community by supporting law enforcement agencies with equipment, training, benevolence, and community outreach programs.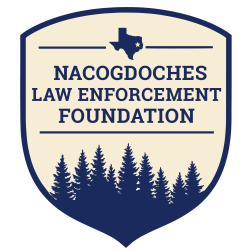 Supporting All Law Enforcement Agencies Serving Nacogdoches
Every day, Nacogdoches Law Enforcement agencies strive to protect you, your family, and the oldest town in Texas. Our officers are constantly risking their lives and putting themselves in harm's way. Our local law enforcement agencies are funded through the government, which is extremely limited. Nacogdoches county has over 17 different agencies that serve and protect us.
The Nacogdoches Law Enforcement Foundation solicits private donations and grants to provide support for these agencies:
Whether it be to assist an injured officer with expenses, provide equipment, provide additional training opportunities, or provide programs or events to bridge our community together, your support is greatly needed.
Through the Nacogdoches 100 Club, private donations from individuals, corporations, grants, and fundraising events, the Nacogdoches Law Enforcement Foundation will raise funds to support local law enforcement agencies. Law enforcement administration and officers submit grant applications to the foundation. The NACLEF Board of Directors, in collaboration with the Sheriff, Chiefs of police, Nacogdoches Police Association, and Nacogdoches Peace Officers Association, will distribute available funds to help create a safer community for our residents.